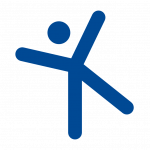 In addition to traditional treatment methods such as physiotherapy or manual therapy, the therapy center also offers modern forms of
Name of the institution/place :
Therapy center at the ukb
Schlagwörter (Tags):
Adults
,
Back School
,
Back sports
,
Back
,
Belly-legs-buttocks
,
Elderly
,
Fitness
,
Functional Fitness Training
,
Gymnastics
,
Health sport
,
Health
,
Men
,
Pensioners
,
Pilates
,
Recreation
,
Senior sports
,
Seniors
,
Sports
,
Strength training
,
Stretch & Relax
,
Women
,
Yoga
, and
Zumba
Visitable for people with reduced mobility :
Facility is visitable for people with reduced mobility
Contact:
Franziska Priegoda
Offers:
Back School:
The perfect course for anyone who wants to do something for their back!
This course is about strengthening the superficial, middle and deep muscles of the back.
However, the entire torso musculature is always trained as well.
Zumba:
Zumba is a mixture of aerobics and predominantly Latin American dance elements. However, Zumba does not work by counting out beats, but follows the flow of the music.
Fun instead of perfection! Dance your way to happiness and let's sparkle together.
Yoga:
Hatha Yoga is a form of yoga in which the balance between body and mind is sought primarily through physical exercises, through breathing exercises and meditation.
Stretch & Relax:
Completely relax and escape from everyday life...
This class will practice and learn various relaxation and stretching techniques.
There will be both more active and quieter portions.
Belly-legs-buttocks:
One of the most popular classes of all time!We work on a shapely butt, slim waist, attractive abs and toned, defined legs.
A class that will primarily improve your muscle strength and challenge you muscularly.
Functional Fitness Training:
In Functional Fitness Training we combine classic fitness training with functional exercises.
Our primary goal is to improve your muscle strength. To do this, we combine functional movement sequences, which guarantees a holistic and challenging workout. This training method also improves your coordination, agility and endurance.
Training times:
Back School
Wednesday: 12:00 - 12:45
Friday: 10:00 - 10:45 a.m.
Zumba
Wednesday: 16:50 - 17:50 h and 18:00 - 19:00 h
Thursday: 19:00 - 20:00
Yoga
Tuesday: 17:00 - 18:00
Stretch & Relax
Wednesday: 17:00 - 18:00
Belly-legs-buttocks
Thursday: 19:00 - 20:00
Functional Fitness Training
Saturday: 09:30 - 11:00
Straße, Hausnummer:
1 Warener Straße
Berlin
Marzahn-Hellersdorf
12683