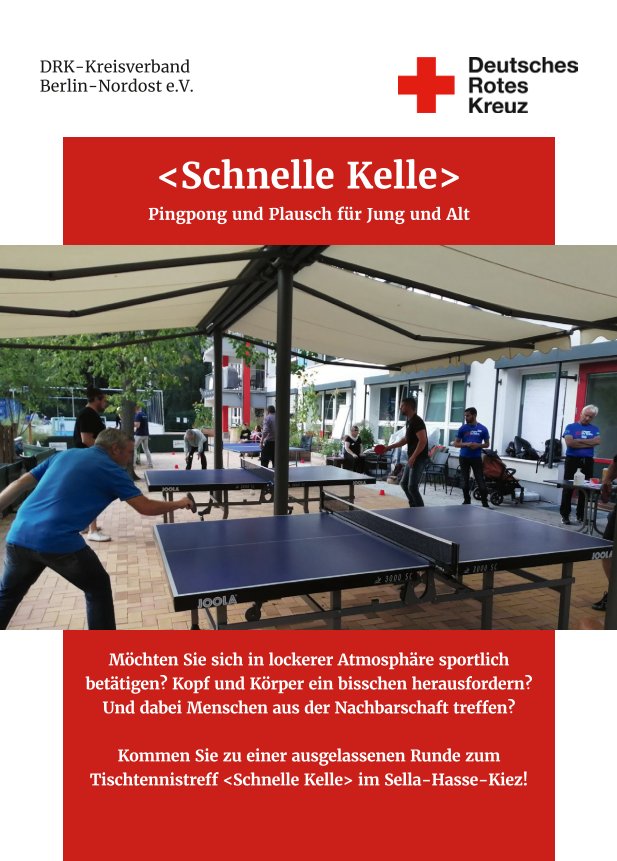 GiB Project "Fast Ladle" Kick-off
Dear table tennis enthusiasts,
Dear table tennis sceptics,
The still young project "Schnelle Kelle" (fast ladle), funded within the framework of "Gesund in Berlin" (healthy in Berlin) and realised in cooperation with 1. VfL FORTUNA Marzahn and FC NORDOST Berlin e.V., invites you to a project kick-off with games and chat on the terrace of the DRK Family and Neighbourhood Centre Marzahn-Mitte! Starting
DI | 2. May 2023 | 15.00 Uhr
Come by, we are looking forward to a good start of the project for young and old!
You are welcome to bring your own trowel, but this is not a must.
Do you need accompaniment, assistance or a pick-up to attend the event?
Then please contact our project manager Jürgen Schäffner on 0160 934 55 854 – we will certainly find a solution!
You can find more information about the project at https://gesundinberlin.org/projekt/schnelle-kelle/